Voila une carte detaillée. ne prenez en compte que les trucs qui existent au 12 eme siecle. Attention les monuments dans les zones 13 14 15 eme siecle ) sont deja existant mais en dehors des murs.
Last edited by Admin on Tue Mar 31, 2015 2:17 pm; edited 1 time in total
Admin




Posts

: 37


Join date

: 2015-03-08



Purée, ça a l'air super vaste, comme ça! Combien d'habitants?




Posts

: 18


Join date

: 2015-03-08



Constantinople is called the Queen of Cities for good reason.
Home to 1000000 citizens, it is certainly the largest and richest city in Europe… perhaps the world.
Magnificent churches, palaces, forums and bazaars line its immaculate streets. Walking in the shadows of the Church of Holy Wisdom, Hagia Sophia, it s easy to believe that New Rome is truly the center of the universe.
No known city can compare to the splendor and majesty of Constantinople, which makes it a destination for Cainites from all over Europe and Asia.
Geography
The Queen of Cities occupies a long peninsula between the Golden Horn – a huge creek the serves as her harbor- and the Sea of Marmora.
From this post, she controls the access of the Black Sea and the link between Greece and Asia Minor. She truly was the crossroads of the known world.
The city itself spreads over a series of hills and features broad avenues and stunning architectural wonders.
Great walls, built by Emperor Theodosius II protect the peninsula form land attack and mark the limit of the city's districts. At the tip of the peninsula is the old city of Byzantium, now the home to the greatest wonder of the New Rome. These include the Church of the Holy Wisdom (Hagia Sophia), the Great Palace Complex and the Hippodrome.  
The Mese the city's main boulevard, runs from this area through the great forum of Theodosius before splitting in twain, one leading to the Golden Gate the other following the Golden Horn to the Gate of Polyandron. The Mese is one of the great boulevards in all Christendom, with arches, squares and monuments to astound even the most seasoned traveler.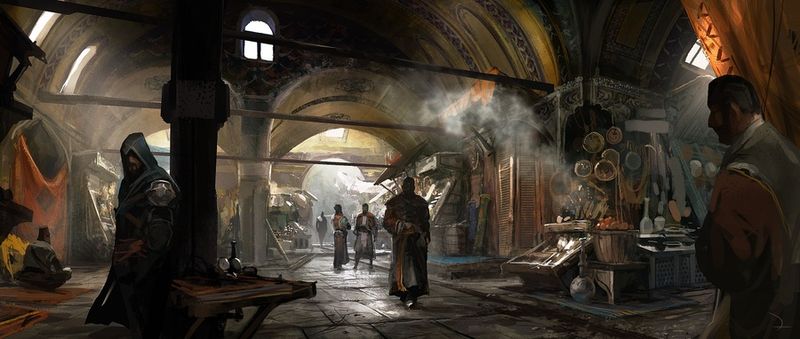 The Golden Horn itself features the many ports of the great city, and is guarded by the great chain strung along its mouth. The ports are now largely the domain of the Venetians and other Latin traders and delegates.
Admin




Posts

: 37


Join date

: 2015-03-08





Similar topics
---
Permissions in this forum:
You
cannot
reply to topics in this forum